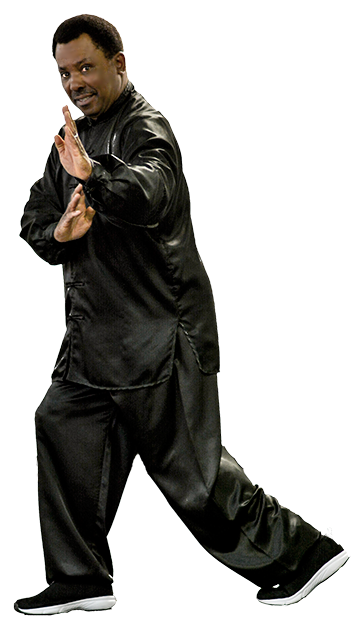 Head Instructor
Master Dexter Parker has over 35 years of martial arts training. He is fully committed to providing each student with the most effective, realistic and safest training possible. He specialized in instruction, leadership and mentoring in collaboration with organizations to improve mental and physical health utilizing martial arts.
Sifu Parker's core competencies include:
Developing and Implementing School Mentoring Programs Utilizing Martial Arts
Martial Arts programs for the Physically Challenged
Martial Arts Styles – Hun Gar, Chi Kung, Low Tiger Kuntao, Philippine Stick Fighting (Escrema-Kali)
Master Dexter Parker is licensed to teach Royal System Kuntao by Grandmaster Reginald McKissick. Sifu Parker is also Grandmaster McKissick's first Peoria student, having begun training over thirty years ago.
Sifu Parker is member of the Low Tiger Kuntao Federation and Low Tiger 3N Indonesian & Kuntao Martial Arts.
He was inducted into the USA Martial Arts Hall of Fame in 2009 as Kung Fu Master of the Year and in 2011 as Multilevel Master of the Year. In 2013 he received Supreme Achievement Kungfu Master of the year. In 2015 he was inducted into the IMANA hall of fame.
---
Lineage & Bios
Grandmaster Reginald McKissick
Grandmaster Reginald McKissick has been involved with martial arts for nearly fifty years. He has been devoted to a Chinese-Indonesian hybrid system of Gong Fu as taught by Willem Reeders (1917-1990) and Arthur Sikes (1943-2008). His teachers were geniuses in their ability to embody a variety of styles. He was a tournament champion in his youth, but has since kept a low profile with a small group of students and occasionally gives seminars for those interested in this rare branch of Gong Fu. He is the only one Grandmaster Sikes certified to teach this style.
Grandmaster Reginald McKissick has been an instructor in the enigmatic art of Chinese Gong Fu. Aiding over one thousand students in their own martial journeys, Grandmaster McKissick's origins begin with then Master Gregory L. Mayo III. Himself the Golden Boy of Grandmaster Arthur Sikes, Master Mayo would set Grandmaster McKissick on his martial voyage at age eleven, placing him on a path steeped in tradition.
Once attaining "advanced" rank, Grandmaster McKissick earned the privilege to train with Grandmaster Arthur Sikes in Las Vegas, Nevada for one full year. Grueling training regiments involved stretching anywhere between twelve and fifteen hours. After this year of intense training, Grandmaster McKissick entered the All World Kung Fu Federation tournament in Albuquerque, New Mexico. Over 500 competitors assembled to demonstrate and test their skills. Of them all, Grandmaster McKissick's abilities shone in such a way catching the eye of legendary Grandmaster Liu Seong, the highest ranking martial artist in the world and head of the Federation. He recognized Grandmaster McKissick's skillfulness, describing his abilities as "too quick".
Under the tutelage of Grandmaster Arthur Sikes, Master McKissick fought and defeated then World Champion Jeff Smith at Caesar's Circus in Las Vegas. Grandmaster McKissick would go on to win over 350 tournaments in his career.
Grandmaster Arthur Sykes acknowledged Grandmaster McKissick as the premier disciple of the Low Tiger System among his masters. Grandmaster McKissick was also highly skilled in Crane, Monkey, Ape and Dragon at the time.
Grandmaster McKissick would go on to devote the bulk of his energy to teaching and spreading the martial knowledge he acquired over his years. Having taught in many cities to many people, his aim was the development of young men and women regardless of race, religion or creed. He has lent his wisdom to schools such as Northern Wind, East Cleveland's YMCA, the East Cleveland Civic Center and his own school in Erie, Pennsylvania, as well as countless seminars and demonstrations. Grandmaster McKissick's giving nature and sense of charity have led him to extend services to counseling agencies for adolescent girls and operate as head of an SYEP work program where he'd incorporate his teaching to help cultivate strong work ethics. He intends to share what he deems as a 'path to success and achievement' through martial discipline.
A man of few, soft-spoken words and almost ethereal motion, GrandMaster McKissick continues to embody the balance so often spoken of in martial arts. An accomplished fighter and highly-respected teacher, he tirelessly and unselfishly disseminates his knowledge to those under his tutelage. Advocating humility, courage, discipline and charity while urging students to grow and challenge themselves he observes every detail to create the best possible whole individual. With achievements serving as testament to not only his high level of discipline but great sense of empathy, Grandmaster McKissick has walked a path few can only hope to follow.

Grand Master Arthur Sikes
Grand Master Arthur Sikes started his martial art training at the age of eight, when his uncle introduced him to combat Judo and boxing. When entering the military in the early 1950's; Grand Master Arthur Sikes furthered his martial art ability with special military training in combat Judo while in the Eighth Infantry and 101st Army Airborne Rangers. In the late 1950's he bagan to study the styles of Karate, Japanese Karate and Okinowan Karate under various American instructors, receiving a fifth degree black belt in Karate. In 1960, while living on the east coast, he entered the World Gung Fu Federation under the teaching of Great Grand Master Liu Seong (Willem Reeders).
At this time he also studied with the great Indonesian Pentjak Silat & Poekoelan Master Willie Wentzel. When Great Grand Master Liu Seong moved to Albuquerque in 1972, Grand Master Arthur Sikes followed his teacher.
Grand Master Arthur Sikes is the "First and Last" non-oriental to hold the rank of 4th Dan Red Sash in Gung Fu under Great Grand Master Liu Seong (Willem Reeders). Grand Master Sikes was also trained in the priesthood, and is recognized internationally as a trained priest.
In the late 1970's, as a result of these teachings, Grand Master Arthur Sikes formed NASDA (The North American Self-Defense Association Inc.). This organization's principles are based upon the trinity of Respect, Honor and Dignity.
NASDA and Grand Master Arthur Sikes' accomplishments have been many. In the early 1980's he opened the NASDA College of Science and Arts for higher education, a post-secondary college in the state of Nevada. He also created the Nevada National Research and Development for Holistic Health and Nutrition.
In the mid 1980's, he formed Y.A.R.D. (Youth of America Research and Development) to design specific programs for the youth to enhance and enrich their quality of life.
In 1995, Grand Master Arthur Sikes was inducted into the Goshen Jutsu International Martial Arts Association Hall of Fame. In 1996, he was also inducted in the World Martial Arts Hall of Fame.
Since forming NASDA, Grand Master Arthur Sikes has dedicated his life to enriching others lives by unselfishly teaching a true and original art.
Great Grand Master-LIU SEONG

(WILLEM REEDERS)
The late Great Grand Master Liu Seong (sir named Willem Reeders by Dutch ancestry), who passed away in 1990, was the son of a Chinese princess. He grew up in Indonesia as a descendent of both the Chinese and Dutch Royal families through political marriage. He began his martial art training at the age of four with his great uncle Liu Seong Sr., who was blind and 80 years old when he began teaching his nephew. Lie Seong Sr. was himself a student and a priest of the Shao-Lin Temple, and he saw to it that his nephew, as the eldest son of the family, received priesthood there as well. As a boy of twelve, Liu Seong (Willem Reeders), journeyed annually from his native Indonesia to the Shao-Lin Temple for 100 day intensive training sessions in martial arts, philosophy, anatomy, meditation, use of elements (fire, water, wind, earth), acupuncture, Tibetan Tai-Chi. He became one of only six children chosen every twelve years to learn the ancient art of Tibetan Tai-Chi.
Liu Seong Sr. also trained his nephew Willem Reeders in the deadly art of Kun Tao, the particular form of combat which is the reserve of royalty and only revealed within the family from Father to eldest son or next immediate male descendent.
In the early 1940's, Grand Master Liu Seong was swept up in the war with Japan and the Indonesian Revolution. He fought on two fronts until 1955. Eventually he applied for a visa to the United States and settled in New York.
Grand Master Liu Seong's Temple experiences proved invaluable to the writers of the television series "Kung Fu", for which he was a consultant. The program, which ran on ABC from 1972 to 1975, included frequent temple scenes in which the young boy trained in the ancient wisdom and martial arts in China. The young boy character was based on the young Liu Seong (Willem Reeders) and the blind temple teacher was based on his uncle Liu Seong Sr., who was also blind.
Liu Seong (Willem Reeders), went on to be named Grand Master, an indication of the highest level of expertise possible by the Chunghwa Kung Fu Hui or World Gung Fu Federation, an international federation of Kung Fu practitioners of over 4,000 in number in the United States and nearly all of those in the Far East. Great Grand Master Liu Seong held a 10th Dan Black Belt in Kodokon Judo and Kiu Jitsu, with only two other people in the world equaling that rank. As sole possessor of the 7th Dan Red Sash of Chinese Karate (Gung Fu), no other individual in the world matched his skill and art in this field. In addition, Grand Master Liu Seong held a 7th degree black belt in Bedizen Soudje Kempo, the fighting system of the Buddhists, and had a working knowledge of over 81 weapons.